The Sequoia Tower is a just a walk away from the Serendra, Bonifacio High Street, Market! Market!, and the Fort Strip. Also, it is a drive away from Ayala's Glorietta and Greenbelt malls. It is also just a step away from everything. Residences will thus be provided with an array of restaurants and retail shops to go about. Situated in Global City, Taguig, Sequoia is strategically located in the fastest growing business and lifestyle district; it will be also located at the country's best schools, hospitals and corporate headquarters. Moreover, it is a short drive away from other business district, such as, Ortigas Center and Makati CBD.
In close proximity are key urban locations within BGC and Metro Manila:
Premier business districts - BGC City Center, Makati CBD
World-renowned medical facilities - St. Luke's Medical Center, Makati Medical Center Educational institutions - International School, British and Japanese Schools, AIM, Ateneo Professional Schools
Cultural institutions - The Mind Museum (the country's first world class science museum), Ayala Museum
Retail destinations – Bonifacio High Street, The Shops at Serendra, Market! Market!, The Fort Strip, Glorietta, Greenbelt
Hotels – Kukun (Ayala Hotels, Inc.), Hotel Intercontinental, Shangri-la, Ascott Manila Peninsula, Mandarin Oriental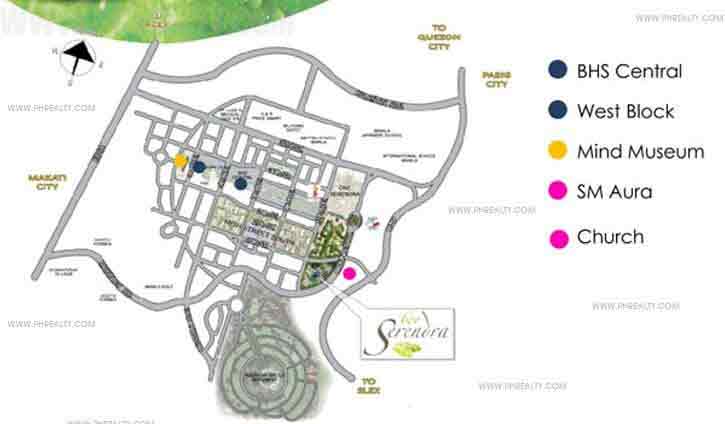 The Sequoia Tower is strategically positioned in the middle of facilities that favor the lives of the residents. Within walking distance one can access all the services they need without using any means of transport, now that's modernity in its extreme.
The Bonifacio Global City attracts people from all walks of life all over the world. Residents of the Sequoia Tower will most benefit due to the location of their homes. With time their homes will gradually escalate in value and reselling such a home will reap a high profit.
The accessibility and availability of vital services that people may come from far to seek are just close by to the residents of Sequoia giving them an added advantage of enjoying life to the maximum. Amenities are meant to make life easy especially when you have a variety to choose from.
Residents here do not have to shop in one mall alone there are many just surrounding them with different items urging them to sample new items as well. The diversity of such amenities brings a new taste to life allowing one to enjoy to the maximum.

The necessary amenities surrounding the Sequoia tower include:
Enough shopping centers surround Sequoia Tower - the fact that it is set up in an atmosphere of living, work, and play for the residents to choose from or find the necessary items they may be looking for right there in the neighborhood.

Serendra Towers
The Almond
The Red Oak
The Meranti
The Aston
The Belize
The Dolce
The Encino
The Sequoia
Hotels – Major restaurants that offer great food, drinks and services are within the vicinity of the Tower allowing residents to dine out once in a while. They include:
Hotel Intercontinental
Acott Manila Penninsula
Mandarin Oriental
Shangri-la
Kukun (Ayala Hotels Inc)

Medical facilities – A residential area requires the presence of medical services within the area to ensure emergencies are easily catered for with the right medical care. Sequoia Tower is surrounded by world renowned medical facilities that offer high standard medical care. These services include:

St. Luke's Medical Center
Makati Medical center

Educational institutions and cultural institutions - Bonifacio Global City carries a lot of history within it. All this history is preserved in museums across this city that allows the younger generation to learn what their country has been through. Quality schools are also available within the locality for children of all ages. The schools are many allowing parents to choose what fits their children best. The educational and cultural institutions include:

Ayala Museum
Makati International School
The Japanese School
The Mind Museum
Ateneo Professional Schools
AIM school